DJing with visual effects
If you want to present something very special, use visual effects. For this, we need a projector, a screen for the projection and some material to present. Projectors today are not that expensive and Tango related Material for presentation is easy to find on the Web.
1  Equipment and Setup
Main Problem here is the projector and obviously the second PC to control that. Our main PC is busy to play music, so it is usually not a good idea to multitask on one machine (remember, the presentation of the music needs to be bulletproof reliable). Anyway, for big Milongas, I have recommended having a plan B (a spare computer for emergency situations) anyway, so a second computer comes in handy and there is no need to keep that in the box for the evening.
Displaying presentations is easy, it can be done with lots of software packages. I use MS-Powerpoint  to construct and display my presentations. If we want to play music, the second computer needs to be connected to the mixer with an audio cable, which is not a big problem.
Setups like that require a lot of equipment. Picture 1 is the trunk of my car for a 4h Gala Milonga with Video presentation. You can see:
Box with Mixer and first PC, Bag with second Notebook, Box with Monitor Speakers, Box with A/V Cabling, Toolbox for quick cable repairs (just in case), Bag with power Cabling, Bag with Projector, Bag with Tablet-PC, Dancing Shoes (just in case)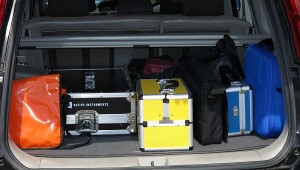 Picture 2 shows the setup with two Notebooks, Picture 3 shows the setup from the dancefloor.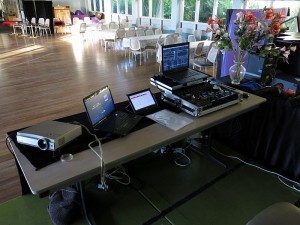 2. Ideas for presentations
I usually display pictures. Normally I prepare one slide per music piece, stating title, orchestra, year of record and vocalist. Sometimes I give additional information on orchestra or title. I try to find related pictures (Picture 4).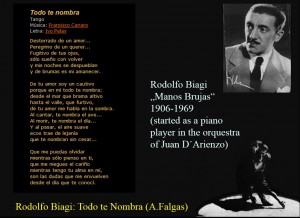 It is also a good idea to let the dancers know, which music to expect in the next tanda. So I usually display that during the Cortina (Picture 5).
Videos are difficult, because I do not want to distract people from the dancefloor, so I normally try to be very careful with videos. Sometimes it is possible to find good videoclips online (especially for Neotango). These videos may be played with their own sound, so I simply use the sound of the presentation computer for the dancefloor. With a good mixer, this is absolutely no problem.
So have fun and be creative !
Your Tango-DJ,
-Ricardo "El Aleman"