I am sitting at my computer desk and trying to write a new article. To my right side there is the stack of some new CDs from last year´s trip to Buenos Aires. New CDs are normally grabbed directly into my computer database which takes less than 10 min. per CD (included tagging) then they go into a storage box. There are not many CDs left to discuss and I admit that I mainly bought modern electronic Tango, because my collection is weak in that regard. So there are only two CD left for discussion. One is a collection of Julio de Caro (which is of course not electronic music but was also needed to complete my collection). Today we look at the 2012 CD "Incidental Tango" of Tanghetto.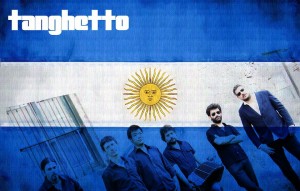 Tanghetto was formed as a band in 2002 in Buenos Aires by producer Max Masri and guitarist Diego S. Velazques [1]. They include bandoneon (played by Federico Vazquez), violoncello (played by Chao Xu), piano (Antonio Boyadjian) and keyboards, guitars and drums (Daniel Corrado) in their lineup [2]. The first album was "Emigrante", released in 2003. Until 2012 "Incidental Tango", 10 more albums followed. Frequently played songs at milongas are "Alexanderplatz Tango" (my favourite one), "Emigrante", "Enjoy the silence" and many more.
Being a mix of Tango and electronic music, not all the songs fit into traditional milongas, but I like to play some in modern milongas with leeway for Neotango music. Most of the music found on the internet are from older CDs, but as an example, this may be OK to get acquainted to the music of Tanghetto.
Here are some examples.
This is the Trailer for their 2013 tour:
This is a TV documentation (in Castellano):
Here one nice examples of a show by Sebastian Arce and Mariana Montes dancing to Tanghetto music and a life performance from Poland by Andrzej Bernas & Justyna Jendrzejewska from 2013:
References
1 https://en.wikipedia.org/wiki/Tanghetto
2 https://tango.info/wiki/Tanghetto