On Saturday I have published my Blog about Canaro and today (Monday) I am still editing it. Dealing with Canaros work also has given me some hints. Believe it or not, but even as a man, I have some sense of romanticism, so the story of the tragic love between a renown orchestra leader and a beautiful singer has drawn me in and as a result, I can´t resist to writing a separate blog about this love and the Valse, which Canaro composed to declare this love.
Ada Falcon was a girl coming from a middleclass family in Argentina, she was born in 1905 in Buenos Aires and started to act in a theatre at the age of 11 as the little Argentinean jewel (la joyita Argentina) [1]. Her two sisters Amanda and Adhelma were also singers, but Ada (her original name was Aida Elsa Ada Falcon) decided in the age of 4 that she would become a singer and finally became one of the biggest female Tango singers under the notorious influence of her mother, who even followed her into her seclusion after 1942 [2].
In her biography at TodoTango, Nestor Pinson describes the initial group of female Tango singers Azucena Maizani, Rosita Quiroga, Mercedes Simone, Tita Merello and Tania Discepolo who started between 1923 and 1930. Ada Falcon, also a member of this elusive group but different in terms of the quality of her voice had her debut as a Tango singer in 1925 when she started to record together with Osvaldo Fresedo for the Victor label. Later in 1929 she recorded with Enrique Delfino and Manuel Parada for Odeon [2]. Her voice ranged from a dark coloured Mezzosoprano to soprano in the high notes [3].
On 24th of July 1929, she sung her first Tango ("La morocha") together with Canaro. Actually Ada was at that time a 24 year old blonde with almost hypnotic intense green eyes [2]. Francisco Canaro fell in love and wrote the Tango Vals "Yo no se que me han hecho tus ojos" for her, including the very romantic lyrics. This is still one of the most romantic valses, and it is definitely a fix element of Argentinean folk music (means everybody knows it). We will introduce the music and the vocals later.
Canaro was successful and despite being married to Martha Gessaume, they started a romantic affair, which lasted more than 10 years. During that time, she made 200 recordings, which finally made her wealthy. She lived in a beautiful 3-story house in the city, drove a red convertible car and publically showed off her jewels and furs. Because of her success and her outstanding talent, she developed the attitudes of a film diva. So her nickname was created "La Empreza del Tango" (I do not want to speculate that this fits to Canaros second nickname "El Kayser").
Canaro considered to divorce, but finally after a consultation with his lawyer, he refused, because that would have ruined him financially. An anecdote is told, that in 1938, during a rehearsal, Canaros wife caught her sitting on the knees of Canaro. His wife (her nickname was "La Francesa") pulled a gun from her handbag and pointed it on Adas head, which led to Ada running out of the room and finally to a separation between Ada and Francisco. It is also said, that Ada told Francisco: "I no longer sing for you". Ada withdrew from public life, abandoned her career as singer and became even more eccentric. In 1942 she published her last recordings: "Encadenado Corazon" and "Vivre con tu recuerdo", both Canaro´s compositions.
After that, she moved to a house close to Cordoba, where she lived as a Franciscan nun together with her mother in poverty and seclusion. Again, it is probably just by chance that her order carries the name of the love of her life.
Her last interview and probably the last pictures taken before her death in 2002 (in a small town close to Cordoba) was given to Lorena Muñoz and Sergio Wolf for their documentary: "Yo no se que me han hecho tus ojos", which was aired in 2003 [5]. Here she was aked why she went into seclusion. Her final answer was: "I was locked in here, because I have to expiate a sin". Further down is a link to the whole film.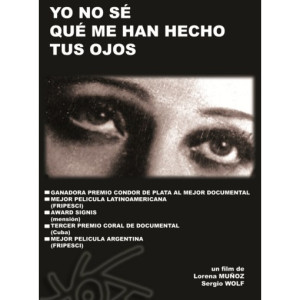 Ada Falcon was finally buried at the Cementerio de la Chacarita in Buenos Aires in a mausoleum for famous artists (very close to Canaros grave).
Her love story (or should we call it a scandal) was well known in Buenos Aires, and even today many people can remember it. In 2010, this story was the basis of a TV miniseries episode (Lo que el tiempo nos dejó: Te quiero) [6].
Actually, I want to have a close look at the lovesong, which finally changed the life of Ada Falcon. Still today, this song is one of the most beautiful Valses and a couple of people have recorded it, amongst them Carlos Gardel. The song has moved that deep into the Argentinean culture, that many people today forgot that it has been written by Canaro, some people even think this is a song by Gardel or modern folk singers.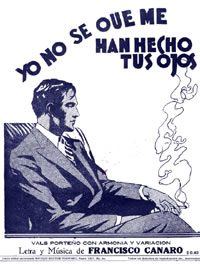 Here is the original Version by Canaro and Falcon with lyrics:
In the TV show (Lo que el tiempo nos dejó: Te quiero) Julieta Diaz plays Ada Falcon and sings the song ( playback with the original version):
This is the version recorded by Carlos Gardel:
These are the original lyrics in Castellano [7]:
Yo no se si es cariño el que siento,
yo no se si será una pasión,
sólo se que al no verte, una pena
va rondando por mi corazón…
Yo no se que me han hecho tus ojos
que al mirarme me matan de amor,
yo no se que me han hecho tus labios
que al besar mis labios, se olvida el dolor.
Tus ojos para mi
son luces de ilusión,
que alumbra la pasión
que albergo para ti.
Tus ojos son destellos
que van reflejando
ternura y amor.
Tus ojos son divinos
y me tienen preso
en su alrededor.
Tus ojos para mí
son el reflejo fiel
de un alma que al querer
querrá con frenesí.
Tus ojos para mí serán
la luz de mi camino
que con fe me guiarán
por un sendero
de esperanzas y esplendor
porque sus ojos son, mi amor!
Yo no se cuántas noches de insomnio
en tus ojos pensando pasé;
pero se que al dormirme una noche
con tus ojos pensando soñé…
Yo no se que me han hecho tus ojos
que me embrujan con su resplandor,
sólo se que yo llevo en el alma
tu imagen marcada con el fuego de amor.
This is the English translation (partly taken from [8]), the guitar chords can be found here [9] and the the piano score can be found here [10] :
I don't know if it's love what I feel,
I don't know if it'll be a passion,
I only know not seeing you, a punishment
is hanging around my heart …
I don't know what your eyes did to me
that upon staring me they kill me with love,
I don't know what your lips did to me
that upon kissing my lips, they make me forget the pain.
Your eyes for me
are lights of anticipation,
that illuminate the passion
I nourish for you.
Your eyes are sparks
that keep reflecting
tenderness and love.
Your eyes are divine
and have me captive
close to them.
Your eyes for me
are the true reflection
of a soul that in loving
it will love crazily.
Your eyes for me will be
the light of my way
that will faithfully guide me
along a path
of hope and glory
because your eyes are, my love!
I don't know how many sleepless nights
I passed thinking of your eyes;
but I know when I slept one night
thinking of your eyes I dreamt …
I don't know what your eyes did to me
to haunt me with their light;
I only know I carry in my soul
your image marked with the fire of love.
Another Canaro recording with Alberto Arenas and Mario Alonso as a duet. The song is perfect for a duet, because the second singer can sing the contrecanto:
This is a version by Juan D´Arienzo and Osvaldo Ramos (1965), here you can find a musical analysis [11]:
This is an older version from 1931 by Ignacio Corsini and three guitars accompanying him:
This is a modern Version by Argentinean folk singer Luciano Pereyra (life):
Finally I want to present the full documentary film by Lorena Muñoz and Sergio Wolf. Even if you are not that good in Spanish, you will see very unique pictures:
If you are more into entertainment, here the film "Lo que el tiempo nos dejó: Te quiero" in 4 parts:
Enjoy one of the biggest love stories in Tango.
Abrazos,
-DJ Ricardo
1 http://en.wikipedia.org/wiki/Ada_Falc%C3%B3n
2 http://www.todotango.com/english/artists/biography/148/Ada-Falcon/
3 http://de.wikipedia.org/wiki/Ada_Falc%C3%B3n
4 http://www.verytangostore.com/legends/francisco-canaro.html
5 http://www.imdb.com/title/tt0324625/
6 https://es.wikipedia.org/wiki/Lo_que_el_tiempo_nos_dej%C3%B3
7 http://www.todotango.com/musica/tema/817/Yo-no-se-que-me-han-hecho-tus-ojos/
8 http://lyricstranslate.com/en/yo-no-se-que-me-han-hecho-tus-ojos-i-don%E2%80%99t-know-what-did-your-eyes-do-me.html
9 http://www.tusacordes.com/secciones/ver_tema.php?id=49338
10 http://www.todotango.com/musica/tema/817/Yo-no-se-que-me-han-hecho-tus-ojos/
11 http://www.tangomusicology.com/wordpres/yo-no-se-que-darienzo-1965/