If we just want to DJ from CD, we are ready to go. If you want to use your computer, this is a bit more difficult, because we need to transfer the CD into audio files. In this article, I will give a description for very beginners.
It has to be clear, that you need to have basic computer skills to do so. You have to be able to install software, find computer-files in a folder and you need to be able to create new folders and copy files from one folder to the other.
Another Problem: In my job (as a researcher) I need to use Windows PCs, so I do not own an Apple Computer. We will do todays exercise with a Windows PC. Please excuse that. The workflow for Apple computers is similar and (using iTunes) probably much easier. There are other good descriptions on the Net.
1. The Software
For the encoding, we need a special external encoding Software. Today we will use the LAME encoder created by Mike Chang and Mark Taylor. The latest version as an executable program can be downloaded at:
http://www.afterdawn.com/software/general/download_splash.cfm/lame_mp3_encoder
After the download, you need to create a folder LAME in  C:\Program Files or C:\Program Files (x86), and you need to copy manually all files from the downloaded ZIP-Folder into this new Program folder.  If the Link to the LAME download is broken, please ask Google.
There are many available programs to rip CDs, I personally use Exact Audio Copy (EAC) from Andre Wiethoff. You may download it from:
http://www.exactaudiocopy.de/eac-1.0beta5.exe
Just to mention, both LAME and EAC are free for noncommercial use. Just, if you find the free software useful, please consider to donate some money to assist further developments.
Please start the installation of EAC. You will need a good quality audio CD in your CD drive, because EAC wants to adjust to the features of your drive. Answer all questions with yes and the drive test will start.
Please choose MP3 as the selected compression method.
Now you just have to tell the program, where it can find the LAME encoder:
Provide your E-Mail address (or not) and keep all the other adjustments.
Now you can start to use EAC.
2. Grabbing of an Example-CD
I drew one CD out of my shelf just blindly. It was CD 4 of Otros Aires.
Just take a picture of the cover or scan it in. Alternatively you can find a cover picture on the internet. I justr used my mobile phone and converted that to 600×600.
Having the CD in the drive, start EAC. If you are lucky, EAC will find the CD in an external Database and will name the tracks automatically. If you are not lucky, you have to do it by yourself.
Here I had to correct one track name and to place the cover by drag&drop.
If you press F11 (or the Menue EAC+Compression options) you will see a window controlling the encoder settings. Please chose a bitrate of 320 kbit/s and LAME as an encoder.
Additionally, you can set up the file name convention. I personally prefer the scheme %Artist% – %Title%. You can set that au in the menue for EAC:
Finally, the program can be started by clicking on "CMP" (to the left, second from top).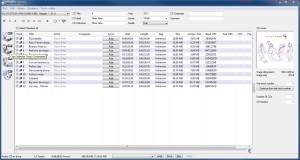 As a target folder, please create one on the desktop.
EAC now starts to read all the track data and compacts them into audio files.
After some time, this is the resulting folder with tagged sound files.
This folder can now be copied into your music collection, using the folder with the name of the Orchester like "Otros Aires". EAC is a very versatile program and can be individualized in many ways. A lot of good examples are available on the internet. Just to mention, that other encoder formats like FLAC can be used as well.
The tag information can be easily changed and extended using another software with the name "mp3tag". This is speciaally helpful, if you have to include the year of recording and the singer in addition to the orchestra. You can download it from here:
http://www.mp3tag.de/en/download.html
3. File name conventions for advanceds

I have decided to standardize all my files like this:
Artist: short name (year)
Title: full title – singer
Filename: short name – title
Directory: last name, first name of artist or full name of orchestra
Subdirectory: name of the record
For example the file:
Rodolfo Biagi – Quiero verte una vez mas.mp3
will have the tags:
Artist: Rodolfo Biagi (1940)
Title: Quiero verte una vez mas-Jorge Ortiz
This format keeps the filename short and all necessary informations will be shown in the MP3 tags.
Regards,
-Richard (DJ Ricardo)
P.S.: In the next lecture, we will look at music player software.