DJ Software for PC and Mac
Player Software is used to play an audio file on a computer. This is today a very basic task of every computer. A lot of different softwares are available for that. Very versatile ones like the VideoLAN client are able to play songs, playlists (collections of songs) and even videos. Sometimes they are versatile in terms of a multitude of supported file formats (like foobar2000) or they come as a part of the operating system (like windows media player or iTunes). A list of different player software can be found here [1].
For DJing in general, these player software is not perfect. For general DJing we need to have the capability of prelistening, while a song is played on the main output. So good software needs to support a prelistening function. The traditional DJing method of using two decks should also be included in the software, so we want the software to have two decks and some mixing facilities.
For Tango DJing, we are dealing with more than 50+ Orchestras and we need a good way to structure a collection of 5000++ Songs. This means the player software needs to be connected to a database, which should be able to handle the ID3tags and store playlists and small playlist snippets (Tandas). This database needs to be quick and safe for use during a life gig.
There are a lot of things Tango DJs do not need: bpm-matching, scratching, sample player and a lot of effects are typically not needed in our business, but there are some exceptions like Tangofusion. The only thing that is of a certain value is the bpm and key detection and the feature of normalization, which makes the work of the DJ much easier.
As always there are cheap solutions and solutions you have to pay for.
1. iTunes ? Love it or hate it…..
iTunes is available for Macs or Windows PCs and mainly is a database for your music with attached player. iTunes comes for free with a player and a sophisticated and versatile database [2]. Especially the database is of hig quality, so many DJs are using iTunes to play.
iTunes has some problems. First, it just has one player which can automatically play a playlist. The problem here, it does not have a second deck and in does not support prelistening. Prelistening is possible with custom made scripts, but it is a problem and not easy to solve.
Itunes also is limited to special audio file formats. Please have a look at [2] for a list. The problem here is, that some formats are not supported, especially the use of FLAC is not possible.
iTunes is connected to an E-commerce system (iTunes store) and digital rights management and copy protection is integrated. People have criticized iTunes for "being bloated as part of its efforts to turn it from a program that plays media to an e-commerce and advertising platform", also some people have rised concerns, that Apple could spy into your music collection.
Anyway, some Tango DJs use iTunes as a database and play with professional DJ software accessing iTunes.
2. The free solution for DJ mixing: MIXXX
Mixxx   is an open source project for Windows, OS-X and Linux and gives you a professional mixing software with two decks for free. It comes with iTunes integration, bpm detection and bpm matching. It supports all the usual file formats (MP3, OGG, WAVE, M4A,  AAC and FLAC) [1] and can handle multiple outputs for prelistening. The newest version even supports hardware controllers. Everything is supported via user manual and a large user forum. The latest version is even able to look inside Traktor collections and handle multiple soundcards and scratch with external turntables (not needed for Tango). More important for Tango, it has a database included, which is able to work with playlists and crates.
As you can see in the picture, Mixxx has two players (here blue and orange) and a typical mixer section in the middle. At the bottom you can see the database window with a playlist and a directory structure to the left.
For beginners in the DJ business, Mixx is definitely a piece of software to look at. It does not cost you a buck and it has all the features of professional software. Verdict: Highly recommended !
3. Professional Software: Virtual DJ (Atomix)
Virtual DJ is a professional Program for DJs, means, it costs money. But if you are not using it professionally 8means no controllers or external Sound cards) then they provide a free version, if you want to use a DJ controller, the license costs something between 100$ and 150$. A professional License is 288$ [5].
Actually the Software looks almost like Mixxx. There are two Decks, a mixer section and a database section.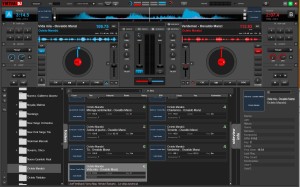 Virtual DJ (Atomix)
Virtual DJ plays almost all major file formats:
For the plethora of features, please look at their Webpage [5]. Two of them are special. Under the name "content unlimited" they offer  access to the streaming service Grooveshark [6] for just 9.99$ per month. The music content can be streamed, but also kept in a physical cache on the computer. This is definitely interesting for beginning Tango DJs. I have just searched for "Yo no se que me han hecho tus ojos" and found almost 20 hits:
Additional to that, Virtual DJ can play videos which is interesting if you want to play music videos life for your audience.
Finally, Virtual DJ is one of the most sophisticated and versatile software you can get today. The feature of Video playback makes it absolutely unique among the big commercial DJ players.
4. Professional Software (Native Instruments Traktor Pro 2)
Today, a couple of professional softwares are available for DJs. For the Tango DJ, mainly the useability of the database is important. Traktor comes from Native Instruments, which is a German software company actually specialized in software for musicians. It offers a very sound and stable database, all the function needed for Tango DJing and also access to iTunes library [7]. It supports most of the usual formats including: AIFF, MP3, WAV, AudioCD, FLAC, OGG Vorbis, WMA, AAC. Copy (DRM) protected files are not supported.  Many controllers are supported, but only one sound card is possible and generally Traktor is kind of picky and only works well with Native Instruments hardware.
 Like all commercial programs, Traktor is well supported and used by many professional DJs all over the world.
Sincerely,
-Richard (DJ Ricardo)
P.S.: Next time, we will look, what a DJ has to carry for a professional gig.
1 http://en.wikipedia.org/wiki/Comparison_of_audio_player_software
2 http://en.wikipedia.org/wiki/ITunes
3 http://www.mixxx.org/
4 http://www.djtechtools.com/2012/08/07/review-mixxx-1-10-dj-software/
5 http://www.virtualdj.com/
6 http://en.wikipedia.org/wiki/Grooveshark
7 http://www.native-instruments.com/de/products/traktor/dj-software/traktor-pro-2/