As a DJ I am collecting Tango Music since the early 90ies, mainly from CDs bought in Argentina, Germany and Australia. So my collection is pretty big and sometimes I have the problem to deal with the sheer amount of musical pieces in search for undiscovered gems. I have spent thousands of bucks to buy music and equipment without the chance to earn more than a drink and a meal out of DJing. This is OK and this is, what is expected of a Tango aficionado.
Beginners of Tango and beginners in the DJ business have other problems, mainly to get at least some music. Today, that is not a big problem, it is even possible to get music free of charge and totally legal. The solution to that is internet radio.
When I was a child, I was fascinated by operating a short wave radio and listening to programs in other languages (I especially remember to listen to Radio Beijing in the early 70ies and even receive a package of prospects in return to my reception report). Later it was common to record music from the FM radio and assemble mixtapes to play in the car and exchange with a girlfriend (do you still remember compact cassettes?). Recording Music from Radio was and is still legal for personal use. The limitation here was the quality of music, which is even for FM pretty low.
Today´s radio stations transmit music streams via digital broadcast or on the internet. So called web radio stations transmit worldwide in reasonable quality. You even don´t need a computer to listen to web radio, many modern equipment (like surround receivers) include the capability of internet radio. The point is, that recording these stations is legal for personal use in most of the countries in the world.
Recording web radio is simple. There is an app for it. Special web radio programs are able to store the music stream on hard disc, recode it as an MP3 and even tag the music file with all relevant information (at least title and musician). The good news is, some of these programs are even free of charge (freeware). Later, I will describe the one I use.
How is that connected to Tango? In Argentina there are many radio stations specialized in tango music (actually nowadays you find these all over the world). Well known radio stations are f.e. "Radio Malena" and "2×4" from Buenos Aires, "Radio Tango-Velours" from Paris or "Tangoparabailar" from Germany, which even broadcasts in tandas. For a list just google or look at:
http://streema.com/radios/genre/Tango
http://www.internet-radio.com/stations/tango/
Many of these station transmit in a quality of 128 kBps, which is pretty good for listening (some do 64 kBps, which is below my quality threshold, even for listening in the car). Storing the songs on your hard disk will quickly provide a collection of many thousand songs and by choosing the stations you like, you will be able to listen to a broad range of tango music from traditional to modern.
It may be very likely a breach of copyright law in your country to DJ with these recordings (and in general, for quality concerns, I would not want to do it), but the main reason for me is to find out, which music is popular or well danceable, and also to be informed about new music. I actually found out, it is easier to get that information from the radio, than to spend precious time in the music shops of Buenos Aires.
So let´s start with a little tutorial. The software I propose is Streamwriter, a freeware program supported by a German programmer (Alexander Nottelmann) which you can download here:
https://streamwriter.org/en/
There are many other programs around, but I found out, that Streamwriter can be tailored to do almost everything I need, so I will not comment on other programs like "RarmaRadio", "Screamer Radio" or "StationRipper", which are also versatile and useable programs.
Using Streamwriter to record Tango music
Install Streamwriter to your PC (sorry Apple folks) and start the program. You will see a screen with two areas, to the left is the list of your active radio stations which is currently unpopulated, to the right you see a list of common stations. In the field genre, please select "Tango".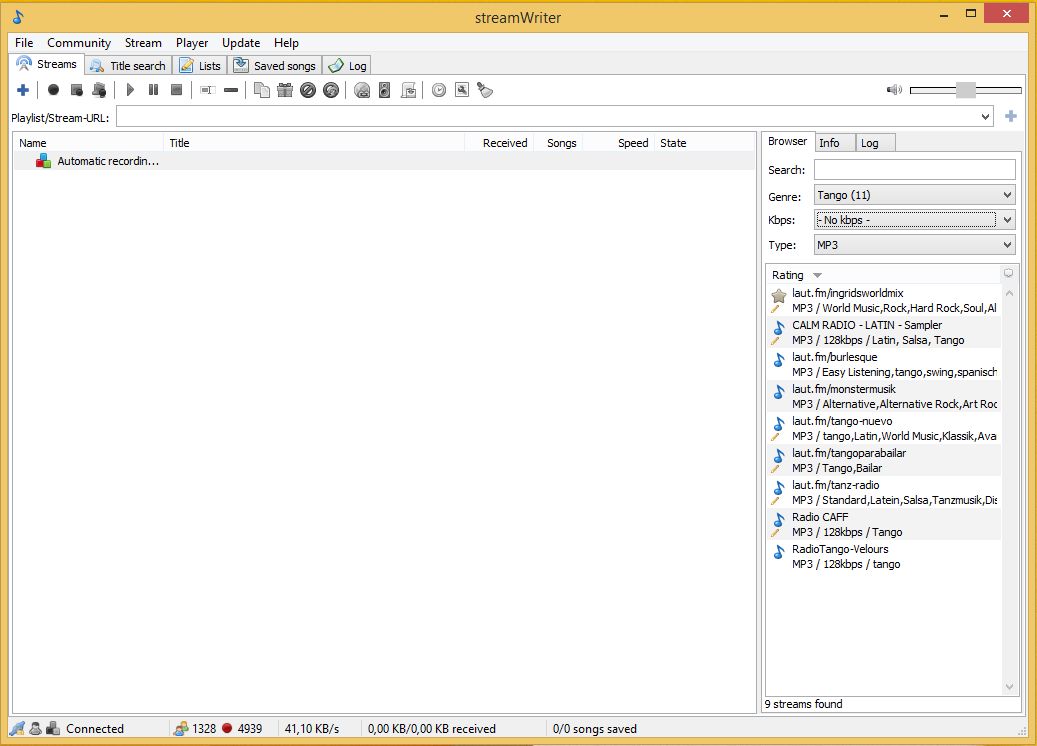 By selecting a station, it will copy to the streamlist and immediately and automatically start recording (red dot !). I did that with the station "Radio-Velours". The currently playing song is displayed in the Title column. In my example it was the song "La ultima curda".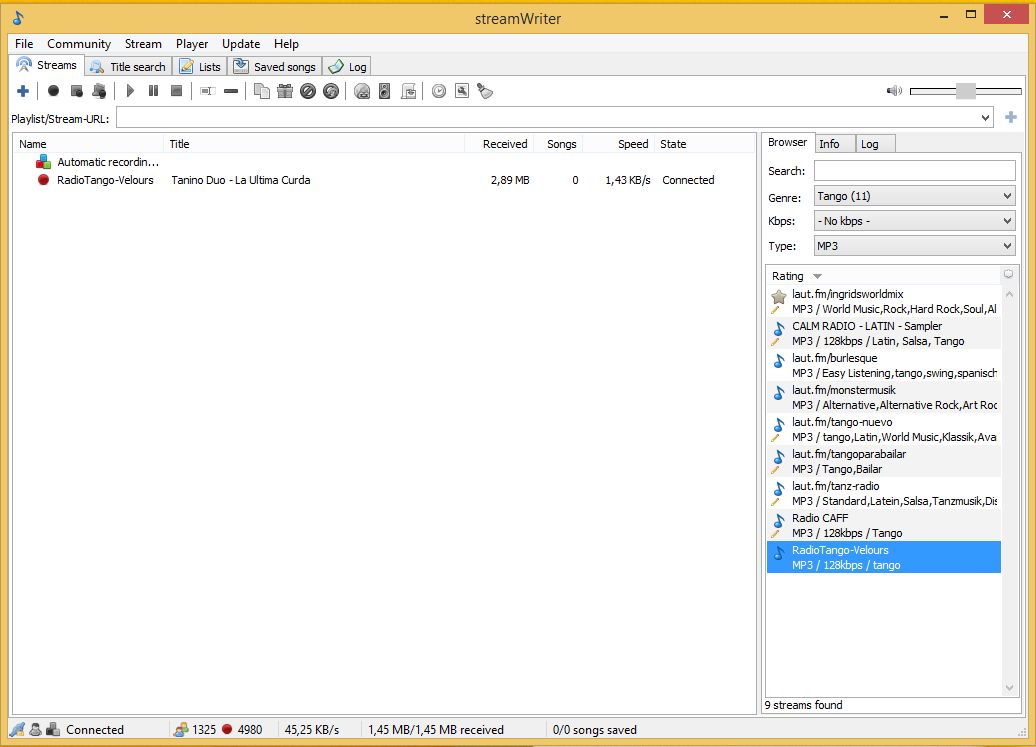 After a while, the song has been stored and will be displayed in the list of saved songs. The list confirms a bitrate of 128 kBps.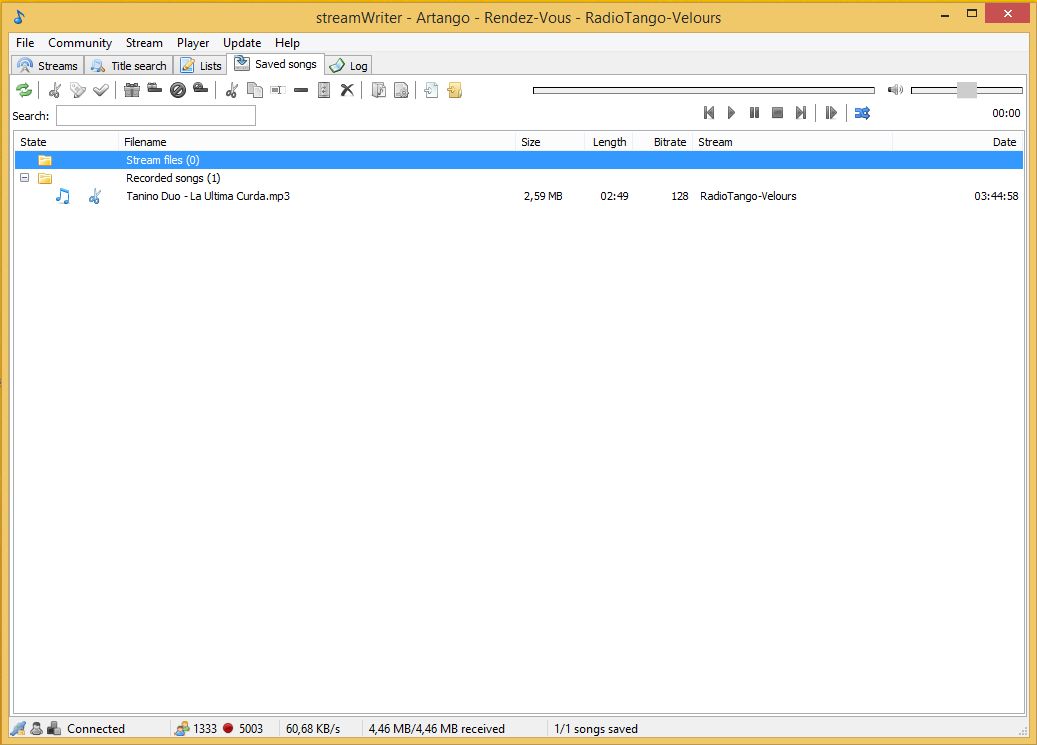 This song currently does not have tags written, so you need to set up the postprocessing feature in the stream settings.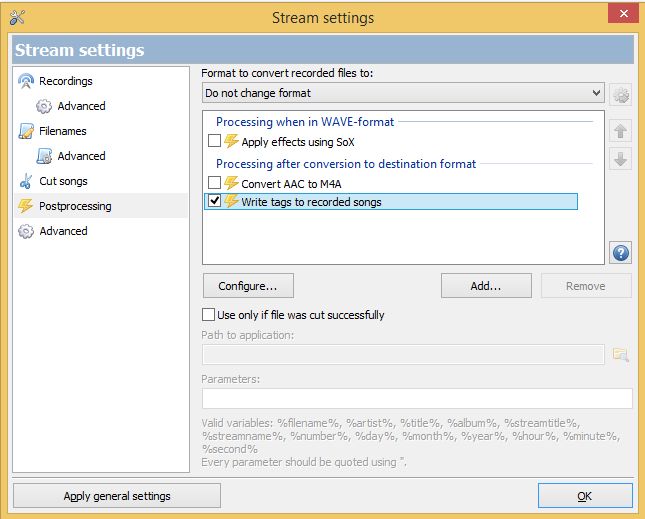 All songs are stored in the directory Music/streamwriter. As you can see, the song "Dos" now contains the title and artist tags. Also the radio station is stored in the comment tag.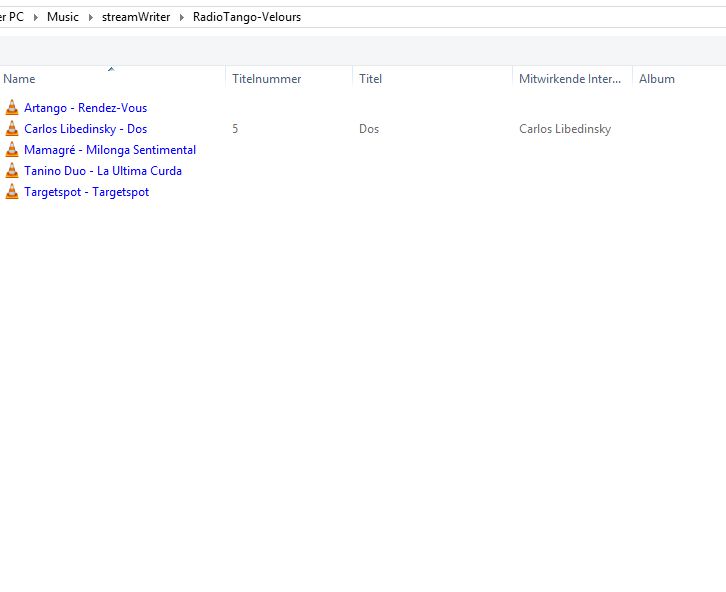 A very interesting feature is the ability to record multiple streams. Here is a snapshot of my recording list, which was active for several weeks and has gathered more than 10,000 songs. Just by the way, you will be able to add additional stations to your list and also tailor lots of the ways, streamwriter works, f.i. to avoid duplicates or the way filenames are generated.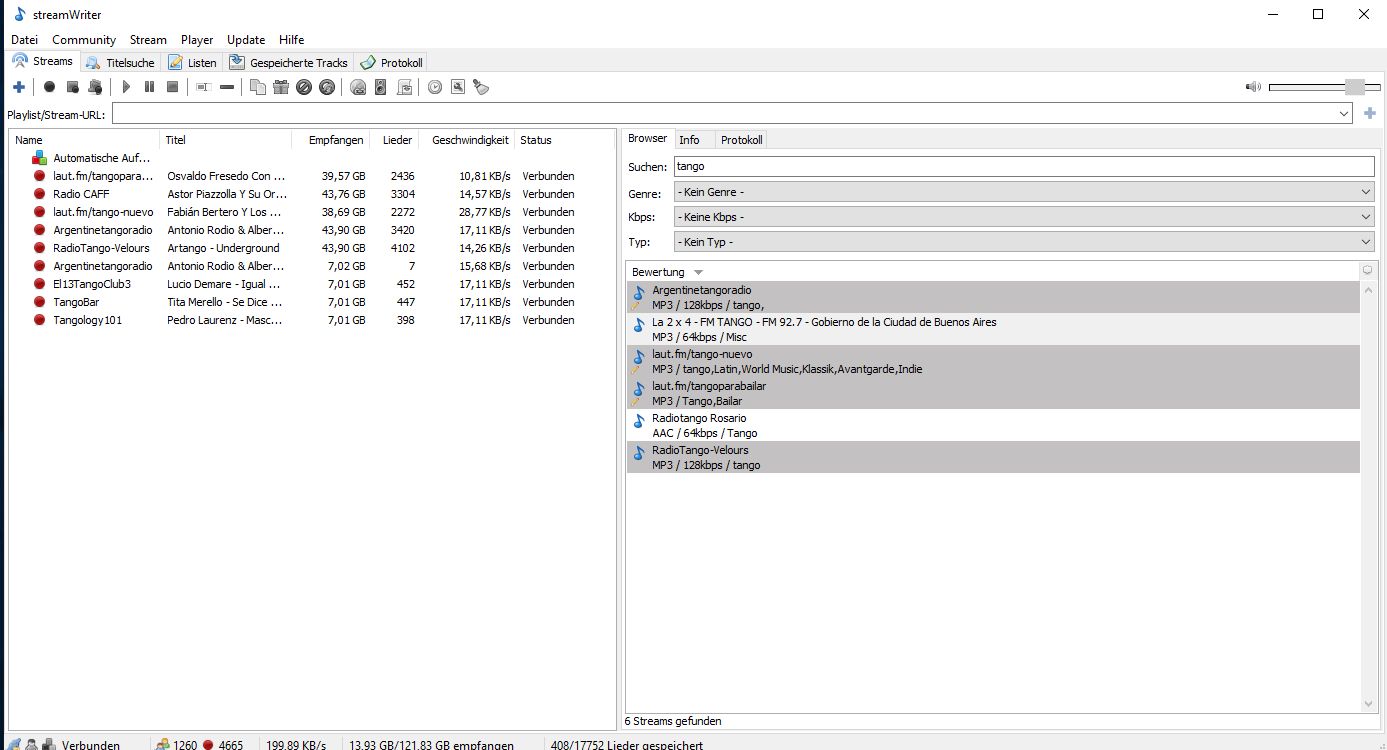 A very comfortable feature of Streamwriter is the list of stored songs. Here you can browse the songlist in alfabetical order and play the songs with just a click.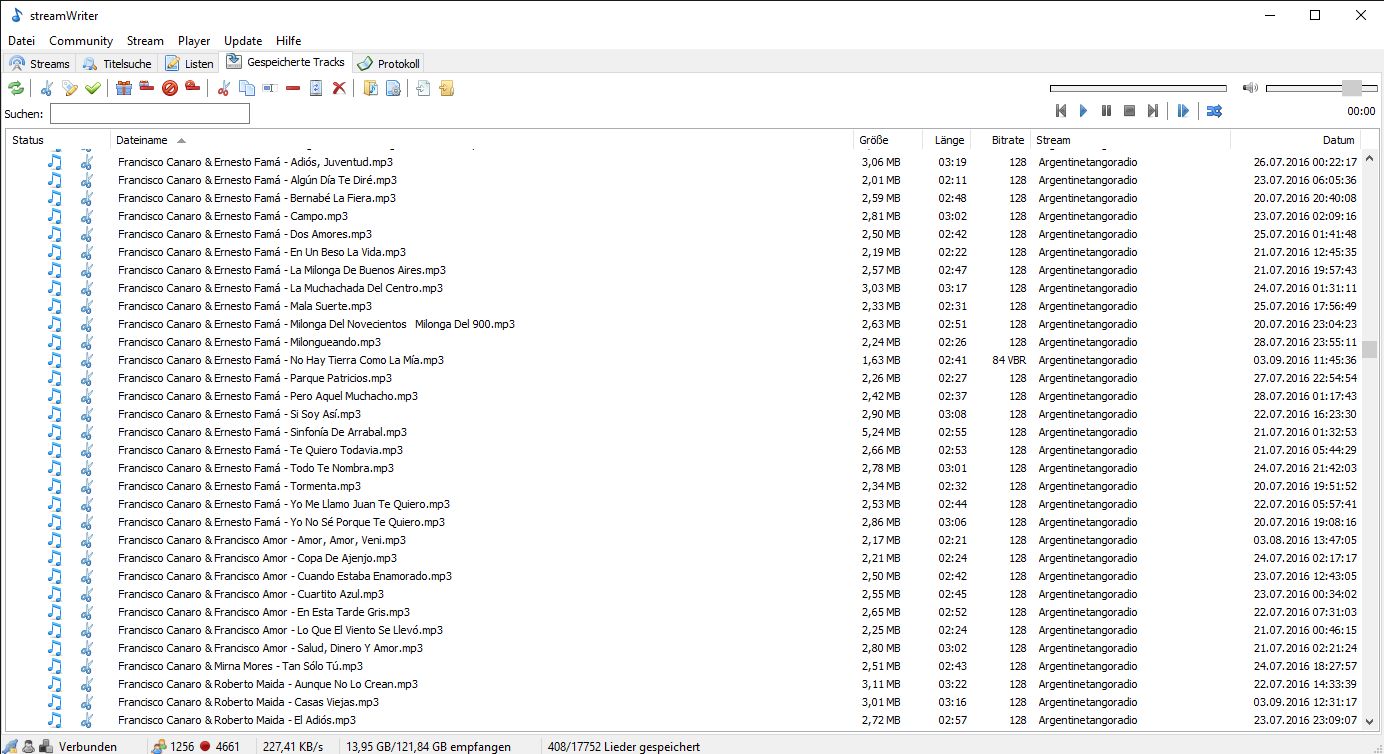 It has never been easier to collect a huge amount of Tango music, so I would like to wish you lots of fun and happiness indulging yourself with all this plenty of Tango.
Saludos,
-DJ Ricardo